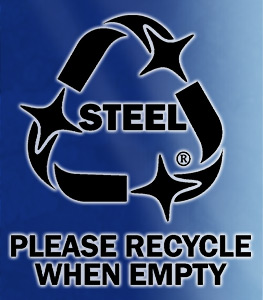 Aerosol Cans are Recyclable
Did you know you can recycle aerosols? Our cans feature the Steel Recycle logo to indicate they can be safely recycled. Here's how:
Empty the aerosol contents through normal use
Check instructions from your waste collector to determine if empty aerosols are accepted curbside
Place empty aerosol container in bin along with other recyclables
If curbside recycling is not available in your area, check with your local hazardous waste recycler
For more information, check out our environment page here.